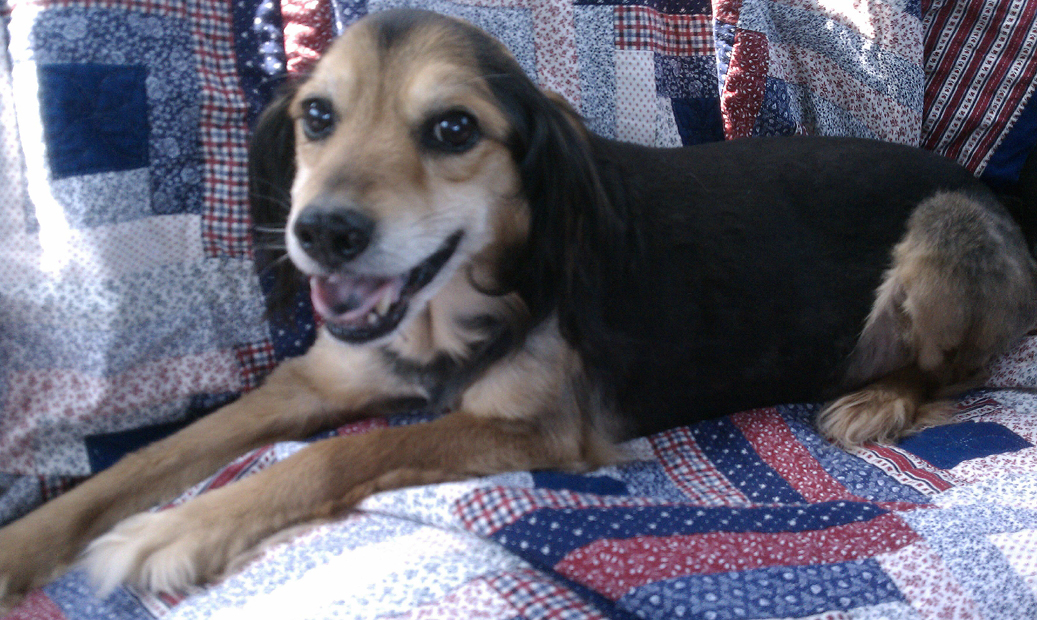 Samuel Tenenbaum has a VERY soft heart for critters, and occasionally sends out pics of strays seeking a home. He and Inez have taken in quite a few themselves over the years, with their menagerie often numbering in the double digits.
Here's the latest he's trying to help with, and here's the original message he passed along from the folks who found him:
Mark and I were walking around a car dealership and found a dog in the parking lot. He looks to be about 5-6 years old, spaniel mix. He's as sweet as he can be, very gentle and well-tempered.  We're going to keep him in the backyard in the shade for a couple of days but just can't keep him any longer with the other animals. I have contacted a few shelters and no one seems to have room right now (although I'll put him on waiting lists). I wondered if you would mind to pass this along to anyone you might think would be interested. Also, I wondered if it might be possible to send this to Sam Tenenbaum to see if there is anything that he could do to help?

I really want to find a home or a no-kill shelter for him, but I'm afraid that if it takes any longer than a few days we'll have nowhere to go besides the pound. L

Any help would be appreciated – thank you so much and hope you're having a good weekend!! (Picture attached)
Samuel is one of the founders of the organization FORMERLY known as Project Pet, and now known as Pawmetto Lifeline. It's the outfit building that state-of-the-art no-kill facility out in the Harbison area.
Some recent media accounts have mistakenly called the group by its former name. But that's not right, folks. It's Pawmetto Lifeline. There's an official website and everything. (We know, because ADCO Interactive built it.) Got that?
Anyway, if any of y'all are interested in helping save this dog, we'll be glad to pass on your contact info.