From 11 a.m. on November 2 to 4 p.m. on November 3 our digital marketing strategist, Lauren, participated in CreateAthon@USC where she stayed up for 24+ hours mentoring students of the University of South Carolina School of Journalism and Mass Communications as they created logos, designed billboards and produced promotional videos and radio spots.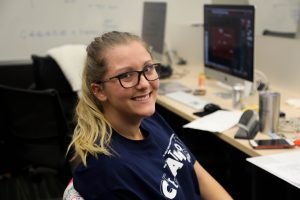 CreateAthon@USC, is an all-volunteer, pro bono effort where students and mentors deprive themselves of sleep and develop advertising and marketing communications for nonprofit organizations across the state of South Carolina. It is designed to give students that "agency feel" of cranking out the best possible work while on a tight schedule and very little sleep. Lauren was responsible for running all of the social media for School of Journalism as well as CreateAthon@USC and she did a great job telling the story. She was also a mentor to the CreateAthon House Team, which was responsible for the CreateAthon@USC brand marketing. They designed billboards and two promotional videos to be used in years to come to tell the story of CreateAthon@USC.
A few weeks later, the teams got together to present their final work to not only their fellow CreateAthon@USC friends but also to their clients, the Dean of the School of Journalism and Mass Communication and University of South Carolina President, Harris Pastides. Lauren's team, the CreateAthon House team, took home an award for Best Multimedia. You can see one of their videos here.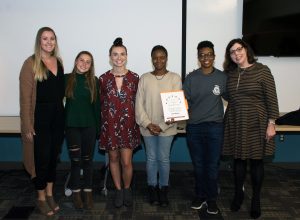 At the end of the day, no matter how tired you are, investing in the talents in your community is important and a much better use of your time than sitting at home watching tv or even doing laundry (it can wait). Despite her hesitations in the beginning, Lauren says she will "definitely" be participating in CreateAthon@USC for years to come.
To see the materials produced during this year's event, visit createathonusc.com