ADCO is pleased to welcome Emma Gerraughty, our newest Communications Strategy intern. In this role, Emma will provide support as we continue delivering powerful strategies and creative branding to our growing family of clients. She will assist in social media management, online content, blogging and more!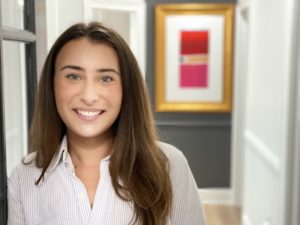 Emma is a senior at the University of South Carolina's Honors College, where she is pursuing a degree in mass communications with a minor in geography. An active member of Omega Phi Alpha National Service Sorority and Omicron Delta Kappa, she spends much of her free time volunteering on and off campus.
"I feel so fortunate to be given the opportunity to learn from such an established and community-driven agency," Emma said. "I'm excited to use and improve my skills to help the ADCO team continue providing the best to their clients!"
Originally from Charlotte, NC, Emma graduated from Ardrey Kell High School in 2018 and knew that she would call Columbia home when she moved onto UofSC's campus in the fall. Her previous experiences include marketing and social media management internships with the Columbia-based Amber Watson Weddings and local non-profit Keep the Midlands Beautiful.
"Emma has jumped in with three feet to help us continue to grow and best serve our clients," says Digital Marketing Strategist, Lauren McAlexander. "For the past year and a half, our clients have needed us more than ever and we are so glad to add one more person to our team."
Throughout the pandemic, many students lost their internships due to the unprecedented times. We are honored to be able to give Emma a place to learn and grow in her career as she gets ready to graduate. Since joining us at the beginning of October, she has been able to meet many of our clients and learn more about what they do.