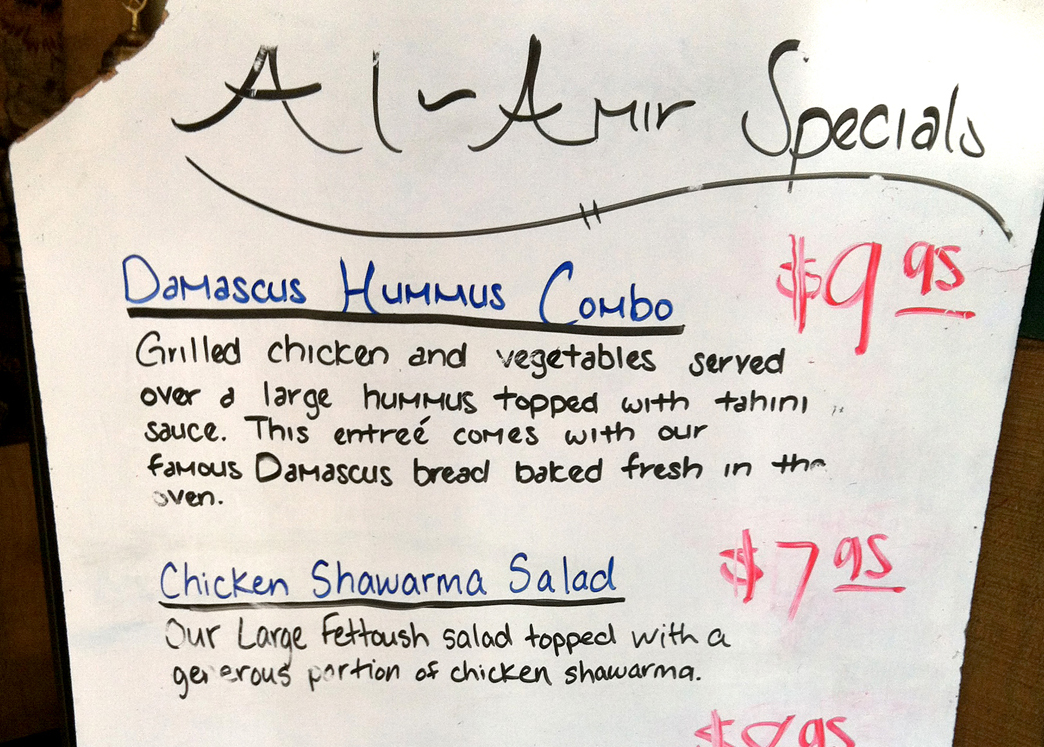 The above sign, spotted today at Al Amir on Main St. — a regular ADCO haunt — put us in mind of "The Avengers."
SPOILER ALERT! OK, not really, because it reveals nothing about the plot, although it will ruin a tiny little fun surprise. It's just one of those little lagniappe things at the end of the credits. Although, come to think of it, this does tell you that all the heroes survive the movie, so SPOILER ALERT!
At the end of the climactic battle, as he's lying dazed among the rubble, Robert Downey Jr., who as Iron Man has 90 percent of the movie's good lines, reassures his comrades that he is alive by saying, "You ever try shawarma? There's a shawarma joint about two blocks from here. I don't know what it is, but I wanna try it."
Then, the fun part: After all the credits — apparently, Joss Whedon needed the help of about 3.7 million people to make this flick — you see the exhausted heroes lounging, disheveled, around a table in the shawarma joint, slowly munching away in complete silence. This continues for more than 30 seconds, as a restaurant employee sweeps up in the background.
This sort of backhanded, non-branded little product placement has apparently launched a bit of a shawarma craze:
Those of you still reading will likely recall Tony Stark's fascination with shawarma toward the end of the film. During the climactic battle, Stark suggests the team adjourn to a nearby restaurant to try the dish, which Wikipedia describes as "a pita bread sandwich or wrap" filled with spit-roasted meat (commonly lamb, goat, chicken or a mixture of various meats). At the very, very end of the film, after the credits have rolled, we witness the superhero team sitting at a table, silently eating their shawarma for a surprisingly long amount of time.

Now, based on that short in-joke, TMZ claims that the Los Angeles shawarma industry has seen a massive spike in popularity since the release of the film. "At Ro Ro's Chicken — a famed Lebanese joint in Hollywood — the manager says shawarma sales jumped 80% in the days after the movie opened," the gossip site claims, while saying that a number of other Lebanese restaurants offered similar results…
That's fine. Just as long as they don't start rebranding it the Super-Gyro…