You may have known from some other source — one of the many with whom we have shared the news — that SwordFest 2023 was coming up this Saturday, Feb. 11, at the South Carolina Confederate Relic Room and Military Museum.
If you hadn't, we hope you caught Soda City Live on WIS on Thursday afternoon. That's when host Dawndy Mercer Plank welcomed Joe Long, curator of education at the Relic Room, and katana-master Dan Bernardo from WellWithin Martial Arts, onto her show. If you missed it, here's the video on the WIS site.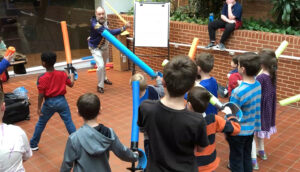 Dawndy always has her eye out for fun things going on in the community, and she knows from past years that SwordFest is a blast for everyone from serious historians to modern-day sword-fighting enthusiasts to kids, who get lessons from Joe teaching them how to properly wield a saber — using safe foam replicas, of course.
The rest of the swords you see will be real — except, technically, the lightsabers. (Because, you know, science fiction.) And you'll also be able to see the historical weapons in the museum's own collections, because admission to the whole establishment will be free on Saturday, along with SwordFest. That means you can also check out the exciting new exhibit in the museum's Cistern Gallery, "A War With No Front Lines: South Carolina and the Vietnam War, 1965-1973," if you haven't done so before. And even if you have, it's worth seeing again.
But we know it will be hard to tear away from SwordFest itself. Here are some highlights of the activities and displays you will find:
10:15 a.m.: Introduction to demonstrations by Relic Room staff.
10:30 a.m.: The IX Legion. A demonstration of Roman sword-and-shield tactics by the legionnaires of this re-enactment group.
11 a.m.: Swords of the Jedi. The Aiken Saber Club will put on a display of one this fanciful form of fencing, inspired by the Star Wars universe.
11:45 a.m.: Iaido, the art of sword-drawing. You can see Dan Bernardo demonstrating this on the WIS video.
12:30 p.m.: Aikido. USC Professor Doug Wedell and the USC Aikido Club will demonstrate sword training and "sword taking," showing how the wooden sword (bokken) is used as a training tool.
1 p.m.: Living historian Neil Rose will demonstrate the 19th century saber, a style used by South Carolina cavalry at war.
2 p.m.: Palmetto Knights Steel Combat Team. These medieval warriors have been a hit at SwordFest year after year.
3 p.m.: Closing ceremony.
And all day, kids will be learning and having a great time with the foam "sabers" in the Kids' Training Corner. You can also visit the Education Room to see the work of special craft exhibitors.
We hope you come out. You might run into ADCO's own Brad Warthen, who had set up the TV appearance with Dawndy for our client, the Relic Room. At the end of the segment, Dawndy wanted a picture to remember the occasion, and made Brad get into the picture. That's him on the left in the image below. Yeah, the guy in the rumpled cargo pants. He insists he was NOT expecting to be on camera. But he enjoyed being there.
Above in the featured image of this post, you'll see just the three presentable people: Dan, Joe and Dawndy…